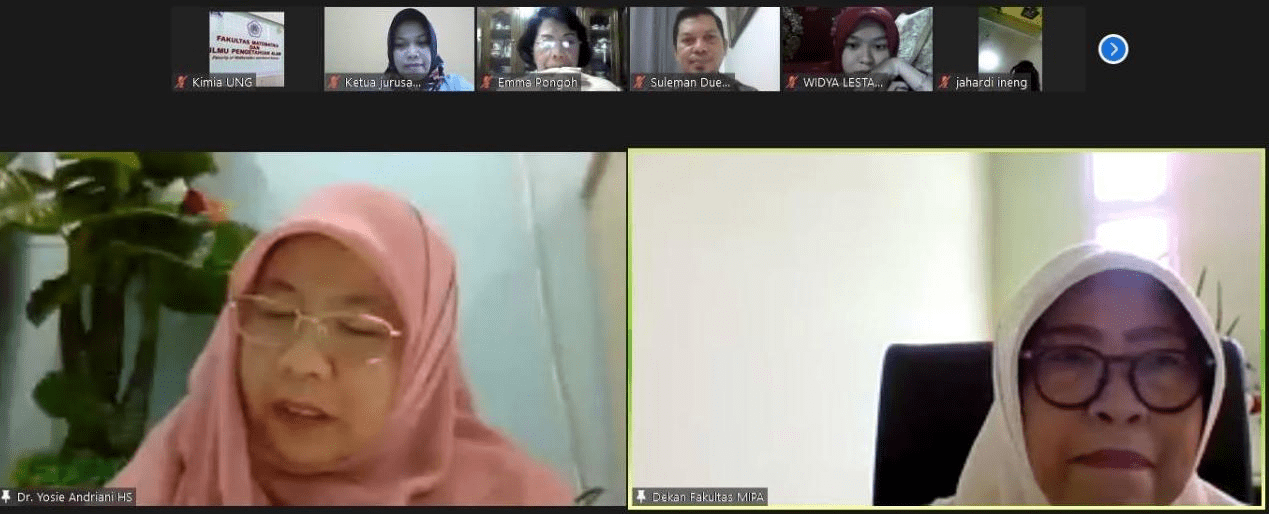 Chemistry Department, FMIPA State University of Gorontalo again held a Guest Lecture with the theme of Natural Product Chemistry, Friday (5/02/2021).
This virtual activity presented two speakers, namely Dr. Yosie Andriani HS, M.Si from the Institute of Marine Biotechnology (IMB), Universiti Malaysia Terengganu (UMT), and Dr. Emma J. Pongoh, M.Si, lecturer and Chair of the Chemistry Study Program, Manado State University.
Phenolic Compounds and Flavonoids as Potential Antibacterial and Anti-inflammatory Agents. Thus the title of the material presented by Dr. Yosie. In his material, he reveals the source and potential of phenolic compounds and flavonoids in nature. According to him, phenolic and flavonoid compounds can be found in plants that grow on the coast, including in the Tomini Bay area.
"Tomini Bay is a coastal area that is rich in natural resources which are bioactive compounds," said the lecturer who has studied coastal plants a lot.
Furthermore, he revealed the benefits obtained from plants that grow around the coast, especially for health.
"Previously until now, coastal plants have benefits as antibacterial, anti-inflammatory, anticancer, antidiabetic," he added.
Meanwhile, Dr. Emma J. Pongoh, M.Si as the second speaker delivered the material on the topic of Isolation and identification of Natural Chemical Compounds (Saponins). Dr. Emma presented the results of research with her team which had been published in the Journal of Natural Products, saponins from the keben plant (Barringtonia Asiatica). According to the results of their research, these saponins can be used as an antifeedant.
Present at the event which was opened directly by the dean of FMIPA Prof. Dr. Astin Lukum, M.Si participants from various campuses. Apart from UNG students, there were also students from Unima Manado, UNM Makassar, Unpatti Ambon, Unipa Papua, Untad Palu.[]