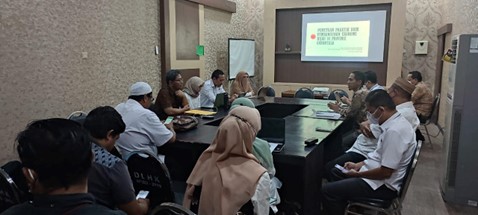 Green economy is an economic idea that aims to improve the welfare and social equality of the community, while reducing the risk of environmental damage significantly. To achieve this goal, the Central Statistics Agency and the Center for Population Research-National Research and Innovation Agency (PRK-BRIN) held a Focus Group Discussion (FGD) with the theme: Mapping of Good Practices for Green Economic Development in Gorontalo Province, on Wednesday, 25 May 2022.
This FGD presented experts from representatives of the Gorontalo Provincial LHK Service, Prof. Dr. Amir Halid (UNG), Lecturer of Chemistry Department, Dr. Yuszda K Salimi (UNG), and representatives of environmental activist Nurain Lapolo (Director of Japesda Gorontalo).
In addition to that, the research team from BPS and BRIN consisted of Yanu Endar Prasetyo, PhD (Coordinator, BRIN researcher), Dr Budi Setiawan (BPS), and Rudy H. Alam (BRIN) and was attended by various representatives from related parties. especially the media.
The objectives of this FGD specifically are: 1. Mapping of green economy good practices starting at the household, community, business and government levels in Gorontalo Province which can be used as a good example to be adopted/studied at the national level.2. Mapping and estimating which people, actors/organizations are involved in supporting the process of green economy practices in Gorontalo Province.3. It is necessary to discuss several aspects that may support or even hinder green economic development in the Gorontalo province.